Dear Speakers, Participants and Friends;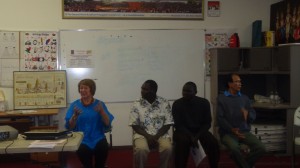 We were successful on commemorating the 22nd year of the Paris Peace Accord on Saturday, October 26, 2013 or we can say 3 days late as the Peace Agreement was born on October 23, 2013. The commemoration environment was in a set of friendly seminar room in which speakers and participants learnt greatly on the historical and educational messages of this day. This classroom-like commemoration has allowed us to be deeply seated into a strong will, commitment and endurance to bring this agreement to light for the collective interest of mankind.
The speakers are represented by community leaders, policy advocates, politicians, educators, teachers, researchers, change catalysts and social activists. While the speeches laid various disciplines and information but the conclusion message of those speeches are Peace Building, Capacity Building, Post-War Trauma Healing and Individual Inner Peace Development.
We thank with sincere gratitude and appreciation for those who shared with us wisdom and spirit in this Peace Commemoration. May you be rich by inner peace and enlightenment.
For your complete understanding about this Commemoration Event, please watch video, view photos, read slide and power point attached below:
22nd Anniversary Program Details